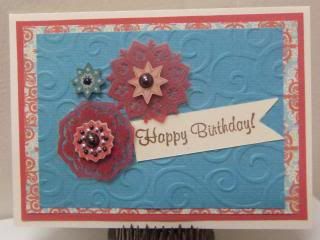 Its Tuesday but I feel like its Monday, I took off yesterday and now I feel like I've go to catch up. Its budget time and time for me to complete all of my online education required training, you know that it comes up every year but for some reason it always seems to catch me off guard. I'm still working on my other craftin' project and trying to sneak in some of my own stuff too; I'll be so glad when I can work on some LOs!
Today I am sharing a birthday card that I'll send to someone next month, didn't get any March cards in the mail. I'm also sharing it for week #10 blog challenge over at
Scraps of Color
. The challenge was all about texture, I used layers and embossing. The embellishments were in a K& Co pack that I've had for a long time; I continue to use my stash but the scrap paper doesn't see to be disappearing! Thanks for stopping by and try to stay warm.