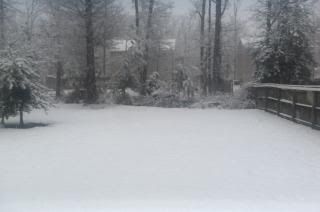 Wow its snowing, this is what our back yard looked like just before dark yesterday, no school!
VCU's participation in this year's NCAA big dance is over, they lost to Michigan on Saturday. They continue to make us proud and Richmond marketable! They had a great first season in their new conference.
This is going to be a busy week so I've got to get in gear. I can alsmost see some light at the end of tunnel of one part of a time sensitive project that I must complete soon. I will never volunteer to take on such a project again! I have had to put my own scrappin' on hold which is no fun.